The Income Tax rates for FY 2012-13 was disappointing for many who expected the new limit for tax exemption would go to Rs. 3 Lakhs, but if you look history of Income tax, probably you would be a Happy man!
Ask your father and you would realize how lucky you are when it comes to paying Taxes.
Below is the table showing the following since FY 1990-91:
Minimum Income for Tax
Lowest Tax Rate
Income at Which Highest Tax Rate Starts
Highest Tax Rate
Highest Tax Rate Including Surcharge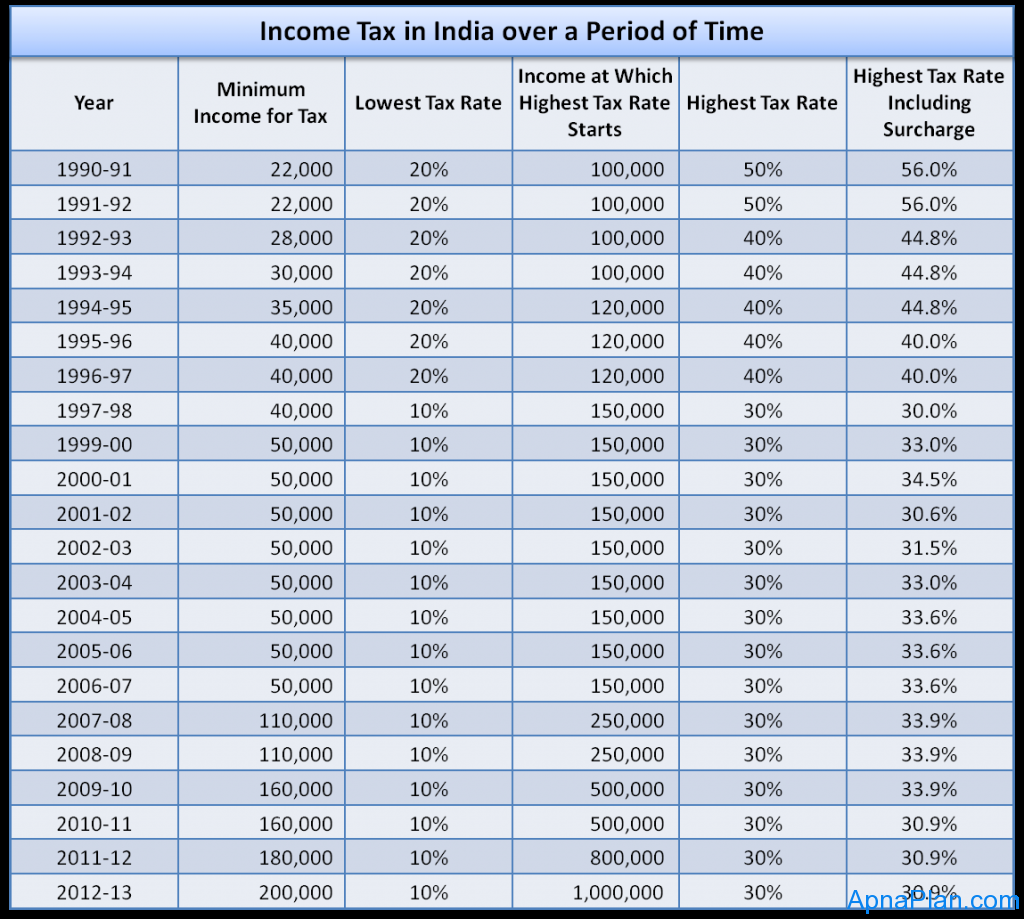 The important points to note are:
Highest Tax Rate Including Surcharge has come down from 56% in FY 1990-91 to 30.9% since 2010-11
The exemption limit for Income Tax has also increased 10 times from Rs. 22,00 in 1990-91 to Rs. 2 Lakh in 2012-13
Even the lowest tax rate has gone down from 20% to 10%
I hope this might have given you a feel good factor after Budget 2012!
How is India placed to other countries in Income Tax Slabs?
Below is a info-graphic from Hindustan Times showing highest Income tax slabs in developed countries like – US, UK, Netherlands, Japan, France, South Korea etc. The income tax rates in developed countries are higher than in India but it is compensated by the facilities and benefits that are given by government to their citizens. The facilities include social security for elder to free education for children, free medical facilities and much better infrastructure.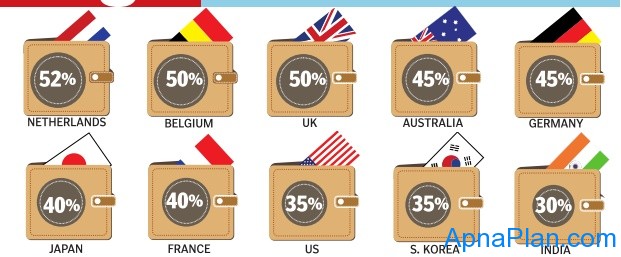 Popular Searches For This Post:
income tax - income tax india - highest income tax rate in indian history - tax slab history - income tax slab history - income tax slab since 1990 - historical tax rates in india - india income slab history - incometax slab in india since 1991 - incometax slab history - income tex slabe 1991 to 2012 - income tex rate sleb history 1990 - income tex rate sleb from 1991 -