India's largest bank State Bank of India (SBI) has reduced its NRE/NRO, Senior Citizen, Domestic Term Deposit Rates by 0.25% for certain tenures from June 08, 2012.
SBI will offer 7% for fixed deposits up to six months as against 7.25%.
On seven-to-eight month deposits, rates have been reduced to 7.25% from 7.5%.
Long-term rates have been left unchanged.
Below are the revised rates.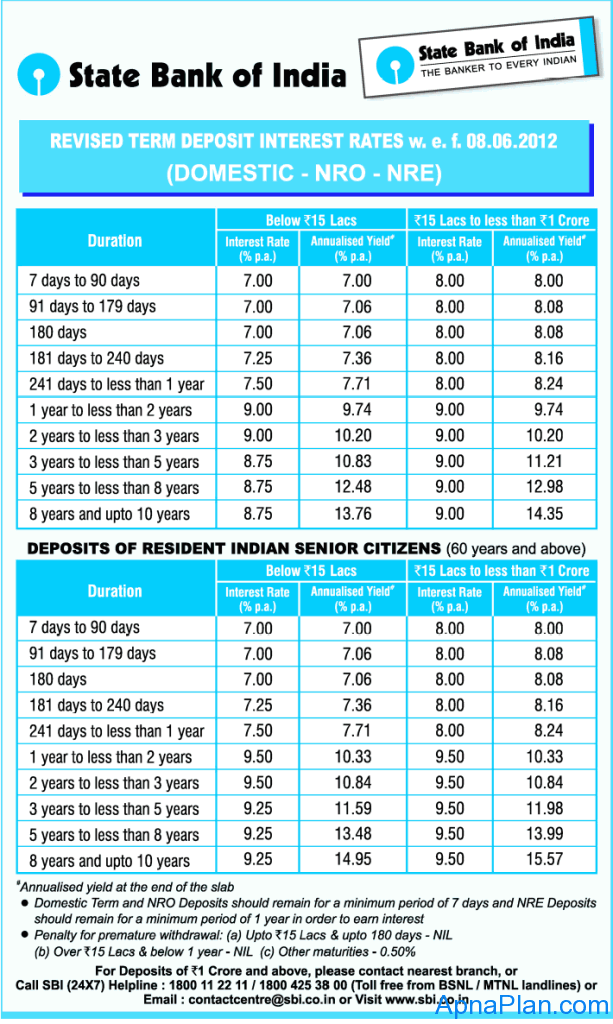 Premature withdrawal of SBI Term Deposits:
Domestic Term and NRO Deposits should remain for a minimum period of 7 days and NRE Deposits should remain for a minimum period of 1 year in order to earn interest.
No penalty for premature withdrawal upto 180 days and 0.5% for other maturities.
Popular Searches For This Post:
sbi fixed deposit – sbi income tax on nre deposits – state bank of india fixed deposits for senior citizen 2012 – DOWNLOAD HDFC BANK senior citizen f d interest chart 2012 – sbi penalties of premature of term deposits from nro sbi – sbi nro interest rate sept 2011 – state bank interest rates on fixed deposits 2012calculator – sbi nre term deposit maturity calculator – sbi fixed deposit senior citizen schemes 2012 – sbi fixed deposit calculator 2012 for senior citizen – sbi nro deposit rates – sbi fd senior citizen calculator – fixed deposit calculators download -
"Subscribe to the blog"
Receive an update straight to your inbox every time I publish a new article. Your email address will never be shared